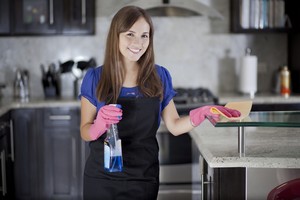 While it is true that hiring a professional maid was once just a luxury and considered a frivolous expense, times have vastly changed. The truth of the matter is getting a professional cleaning service to take care of upkeep for your home is now more necessary than ever. Cleaning your house is one of those tasks that you end up taking care of in your free time, yet who has any of that any more?
Work schedules have become more demanding and recreational tasks more hectic. Between taxiing the kids to various sporting practices, taking the pets to the vet and taking care of errands like grocery shopping, there is barely time to sleep, let alone clean. So more and more homeowners are waking up to the fact that hiring a pro is where it's at.
Is Hiring a House Cleaner Worth the Expense?
Ask anyone already working with a maid service and you will get the same response each time – Yes! Chicagoland home and commercial business owners are wising up to the fact that it makes more sense to rely on a cleaning pro, here are some of the reasons why:
You really are not saving that much money by trying to clean your place on your own. Once you breakdown the actual cost of a cleaning service versus the man hours you would invest into cleaning, it makes more financial sense to trust in an expert to do it. Plus, it means you get to reclaim your free moments to spend quality time with friends or family, or whatever it is you'd rather be doing.
You simply cannot achieve the same results. Have your house cleaned even one time by a reputable professional and you will be hooked. This truly is a deep level of clean that can only be acquired by seasoned pros. Your home will even smell like an entirely new house. You can feel good knowing that after every scheduled cleaning, you get to come home to an immaculate living space.
Keeping your interior clean is vital for improved health. While this is especially important for anyone suffering from asthma, allergies or any other respiratory related health issue, every member of your household will have chances of better health with a clean house. Dust, mildew and airborne contaminants like pet dander can wreak havoc on your well-being. However, keeping your home clean can help reduce the risk.
Keep in mind, you may have heard rates from someone and thought it seemed steep. However, take into account that not everyone has the same cleaning service needs. For instance, some larger homes, with pets take longer, especially if they want full service including laundry, dishes and even window cleaning. You may be a single professional with a smaller condo and would rather do your own laundry. Most cleaning industry professionals will customize their rate to your individual service requirements.
Stop Stressing Out
The bottom line is that cleaning or worrying about cleaning is probably taking more of a toll on your life than you realize. Getting professional help for your household cleaning won't just improve your home, it will enhance your quality of life. Making the smart call to Maids On Time, Inc. puts you on the right path to getting this taken care of, in a prompt and professional manner.
You will quickly realize what all the hype is all about and how a minimal investment will provide you with returns of a spotless house and even enhanced indoor air quality. Plus, you finally get to keep your free time instead of sacrifice it for cleaning chores. What have you got to lose by at least trying it?
You deserve a clean home and you owe it to yourself to have access to that, without the need for doing it yourself. Let us demonstrate in person, why so many people opt for professional maid services. More importantly, let us help you better understand what makes us the best choice for the job.
If you are looking for service areas for a Chicagoland maid service and cleaning company that services the all of Northeast Illinois, then please contact us today.