Our 100% Satisfaction Guarantee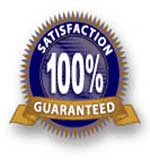 By hiring Maids On Time, you have demonstrated pride in your home. We share your pride and demonstrate it in the professional way we perform our duties. If there should ever be a problem, please let our office know immediately. If the problem requires rework, we will return as soon as possible, if we are notified within 24 hours. Please make sure to make all requests through our office so that management is aware of problems and/or special needs and can mark your file accordingly.
If you are looking for a professional Chicagoland maid service and cleaning company that services the all of Northeast Illinois, then please contact us today.

Cleaning Tip - Cleaning Granite Countertops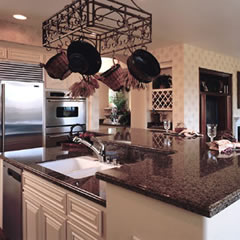 Chicagoland homeowners who are seeking to increase value to their homes enjoy the durability and easy maintenance when upgrading to granite countertops. Granite is the most durable of all stones, second only to diamonds. Granite, being created from molten rock, can withstand the heat from a hot pot without a trivet. The hardness of the surface is excellent for handling dough and confectionery. While durable and low maintenance, however, they are not impervious to damage.

Properly installed granite countertops should last a lifetime, one justification for the higher costs associated with the material and installation. The granite suppler should provide personalized instructions for care with each slab, since all granite is made up of many different minerals. Even if two different stone slabs come from the same part of the world, there will be variances in the granite that require different kinds of attention.

Proper care ensures the longevity and beauty expected from this premium product. In addition to the polished finish, it's possible to get a "honed" or flat finish. Although a honed finish can be very attractive, it is not recommended for kitchen use. Over time, everyday use will tend to lend a polish to some areas, and the additional necessary sealers will distract from the beauty of the surface. A polished finish is easiest to maintain with regular care that includes proper cleaning and the use of sealers to prevent staining. ( Read Complete Article)
.
If you are looking for Cleaning Granite Countertops in Northeast Illinois, then please contact us today.