Are You Looking for a Woodstock Cleaning Service Today?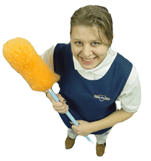 Lifeís too short to clean your own home. We know youíre busy with a packed schedule and multiple responsibilities. So, keeping your home clean doesnít have to be on your to-do list. Trust Maids On Time Maid Service and Cleaning Company to clean and maintain your Woodstock home using our time-tested cleaning solutions. Itís a system perfected by more than a million cleans, and your satisfaction is always guaranteed.
Maids on Time - Woodstock Maid Service
Our Woodstock maids are tough enough to scrub exposed brick, yet tender enough to feather dust delicate blinds and antiques and everything in between. From washing and waxing hardwood or vinyl floors to dusting crowded bookshelves, Woodstock maids get the job done right! Every room is left spotless as we vacuum carpeting, furniture, and stairwells. Your bathroom fixtures, floor, and tile will sparkle. Those dirty dishes will soon disappear.
Woodstock Party Planning
Maids on Time also offers party planning and implementation services. Let Woodstock Maids help plan your next party! We help prepare, serve, and clean up once the party's over. Our Woodstock maids have years of experience.
Services We Provide in Woodstock, Illinois
Bathroom Cleaning
Kitchen Cleaning
Oven & Refrigerator Cleaning
Floor Cleaning
Living, Dining, & Family Room Cleaning
Bedroom Cleaning
Laundry Room Cleaning
Recent Articles:
Top Ways to Tell if You Need a Chicago Maid Service


These days it seems that everyone is so busy with working, taking care of kids, running kids back and forth to sports games and extra curricular activities that there is no time left to clean the house... Read More >>



What a Chicago Maid Can Do for You


There are many professional Chicago maid service companies available in Chicago these days. Some can provide a general cleaning service while others decide to specialise in areas such as domestic cleaning, end of tenancy cleaning services or even commercial cleaning... Read More >>
---
For professional maid service in Woodstock, please complete our online request form, or call (847) 515-7100.